The Lyon, Paris, Bødo Saga
Jean-Hervé Péron
The Faust list, 10 Jul 2006
Big nose Zappi, Art-Errorist Jean-Hervé Péron, Faust members Olivier Manchion and Amaury Cambuzat decided to meet in Carina's old mill in Luth, south of france, to tune in for their upcoming three concerts: Les Nuits Sonores of Lyon, Paris La Villette Festival and the Bødo Nødutgang Festival. We also had invited Keef Roberts to join us at our rehearsal-retreat to be ready for Lyon. We had long talks about the 'set-list concept' - the UK tour in November 2005 had shown that the audience appreciates to hear the 'old tunes' but we missed the lengthy free improvisations. So we decided to take up the challenge and play 'old stuff' which had not been played before and mix totally free pieces in between with no time-restricting factor.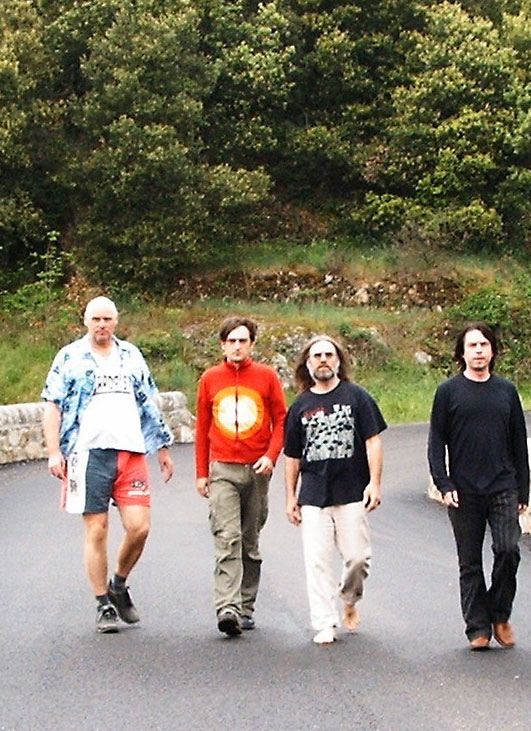 We spent ten days of diciplined joyful practicing routine: begin at 7a.m, work till 8 p.m every day. It turned out to be first extremly tedious but soon we felt that we were rapidly progressing towards our goal: at the Nuits Sonores we played for the first time ever most material of our first LP Faust Clear. It was generally considered as impossible to play live... Why Don't You Eat Carrots, Slow Goes the Goose, Me Lack Space, In The Spirit, Meadow Meal. In order to visually support and enrich the set we showed a video that we had made in Luth with ourselves as comedians.
The festival was well organized and our guest-artists Walter Monnen and Keef Roberts did a splendid job on acoustic guitar, keys, vocals and sounds. Keef returned to the USA with our best thanks and respect.
Julien Perrin came with his video crew to secure detailed footage of the Lyon set-up and performance. It will be part of a documentary film dedicated to the German music scene from the late sixties on.
Julien (camera) and Julien (sound engineer) followed us also in the studio CAMPUS in Paris where we met with our guest-artists John Greaves (Henry Cow, etc) and Lilla Peron, violin at the National Conservatory of Classical Music. We rehearsed there for one and a half days. John cancelled a wedding invitation in Normandy to support us!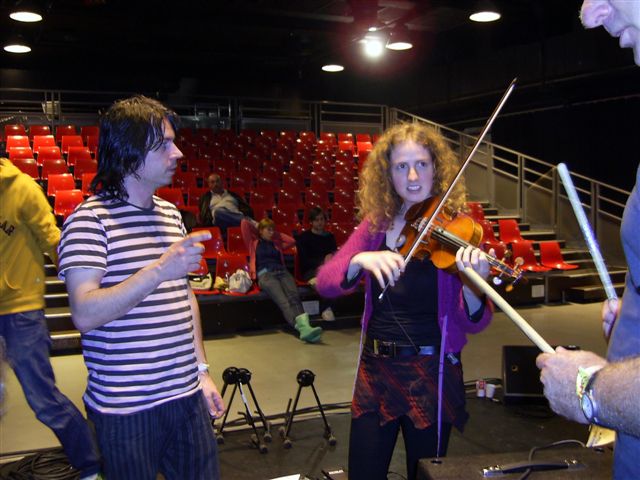 In Paris La Villette, we were scheduled to play outdoors but the weather-gods had decided differently! The promoteres had to re-organize the whole festival so we ended up after eight hours delay in a beautiful venue 'La Halle Aux Cuirs', holding 300 people. By the time we started our performance, they had to open the gates behind the stage and let the enthusiastic audience watch us from behind, standing in the rain. All in all, about 1000 people sqeezed inside and outside.
It was very motivating. We were not happy about the monitor balance on stage and had to play ' by the ear' in that case quite difficult and this is where our work in the mill and at the Campus studios showed their efficiency. Fortunately, we found out later that the recordings of the FOH sound was more than acceptable. John and Lilla triggered most intense and fascinating moments in the performance.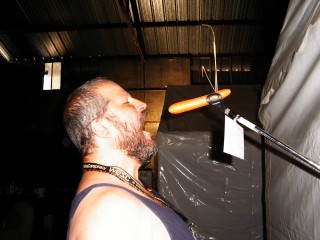 In between Lyon and Paris we had booked studio time in Hamburg - five days with Zappi, Jean-Hervé Péron and Amaury where we recorded exclusively improvisations. We have made a rough mix of these sessions and are now looking for a label to release a new album. We were fully pleased by the output, by the quality of the recordings as well as the vitality of the music. We decided to take that 'spirit' to Bødo where we knew that we had to play in that same trio format.
Bødo, yes, all the way up north, beyond the polar circle. A festival organized by idealists where idealist artists performed for an idealist audience ! A beautiful feeling - amazing, the courage of the promoters to put up a festival of only uncompromising music - hats off! perfect FOH sound and perfect monitor sound! We also had a splendid 'backline shop', a metal scrapyard surrounded by a grandiose norwegian sea/mountains landscape. We were allowed to do our sparks and flames and smoke and tv-smashing, ironing, water splashing. We played two sets this time to give room enough for our free improv. Our guest artist this time was 'Shit-Lars'(!) He drummed the hell out of the end of first set and welded wild flames at the end of the second. The contrast between the nobel venue and the outrageousness of all the performances was just overwhelming... total destruction of the backline and absolute smoke out of the venue which sparked off general fire alarm in the vicinity - a looooong trip from faust headquarters to Bødo but we do not regret one second.
Future plans? Well, we decided to cancel two tours this year in order to concentrate on an Eastern European tour. We are indeed keen to share our music in parts of the world that we had not yet visited.
Jean-Hervé Péron, "

The Lyon, Paris, Bødo Saga

", The Faust list 2006