1974: Faust: Faust IV
LP
Virgin
V 2004
CD
Virgin
CDV 2004
Released:
1974
Recorded:
The Manor House, 1973
Werner Diermaier
Drums

aka. Zappi

Engineer:
Kurt Graupner
Hans-Joachim Irmler
Organ
Producer:
Uwe Nettelbeck
Jean-Hervé Péron
Bass
Rudolf Sosna
Guitar and Keyboards
Gunter Wüsthoff
Synthesiser and Sax
Original Release

Krautrock
11.45

(aka A 70's Event, A 70's Event (edit), Kraut Rock)

The Sad Skinhead
2.33

(aka The Sad Skin, The Sad Skinhead (Alt), Sad Skin Two, Sad Skin, Fast Head)

Jennifer **
7.09

(aka Jennifer (alt))

*
Just a Second (Starts Like That)
3.35

(aka Just a Second (Extended))

Picnic On A Frozen River (Deuxieme Tableaux) **
7.53

(aka Party 1, Giggy Smile, Giggy Smile (Alt))

Combines versions of "Giggy Smile" and "Picnic on a Frozen River"

*
Lauft... Heisst Das es Lauft Oder es Kommt Bald... Lauft **
3.35

(aka Lauft (Alt), Psalter, Psalter (slow), 13/8, Psalter (5 May 1994), Psalter)

Run
3.37
*
It's a Bit Of a Pain **
3.08

(aka Pain)

---

Bonus disc from the 2006 EMI re-release

*
The Lurcher
7.56

John Peel Show, BBC 1st March 1973

*
Kraut Rock
11.42

(aka Krautrock, A 70's Event, A 70's Event (edit))

remixed for the John Peel Show, BBC 1st March 1973

*
Do So
2.33

(aka Stretch Out Time, Stretch Out)

remixed for the John Peel Show, BBC 1st March 1973

*
Jennifer (alt) **
7.10

(aka Jennifer)

*
The Sad Skinhead (Alt)
3.19

(aka The Sad Skinhead, The Sad Skin, Sad Skin Two, Sad Skin, Fast Head)

*
Just a Second (Extended)
10.30

(aka Just a Second (Starts Like That))

*
Piano Piece
5.56

(aka Das Meer, Meer (alternative))

*
Lauft (Alt) **
4.12

(aka Lauft... Heisst Das es Lauft Oder es Kommt Bald... Lauft, Psalter, Psalter (slow), 13/8, Psalter (5 May 1994), Psalter)

*
Giggy Smile (Alt) **
5.55

(aka Party 1, Giggy Smile, Picnic On A Frozen River (Deuxieme Tableaux))
The Sad Skinhead

Apart from all the bad times you gave me
I always felt good with you
Going places, smashing faces
what else could we do?
Apart from all the good times I gave you
you always felt bad with me
Going places, smashing faces
what else could have happened to us?

Jennifer

Jennifer, your red hair's burning
Yellow jokes come out of your mind

It's a Bit Of a Pain

It's a bit of a pain
to be where I am
It's a bit of a pain
to be where I am
but it's all right now...

Stretch Out Time

Yes, I see
you are the one to be me...
...
stretch out time, dive into my mind and sign
get answer and hold your dime
but not into the Coco smile
love is really so...
love is really so true

Jennifer

Jennifer, your red hair's burning
Yellow jokes come out of your mind

The Sad Skinhead

Apart from all the bad times you gave me
I always felt good with you
Going places, smashing faces
what else could we do?
Apart from all the good times I gave you
you always felt bad with me
Going places, smashing faces
what else could have happened to us?

Nadine McBay: Faust IV Reissue
Thanks to Sam Dutton for finding this review.
Classic reissues for your collection: Their radical studio techniques make a convincing case for them as Krautrock's most free-thinking pioneers. Oddly, this LP was viewed by many as a retrograde step into the mainstream when it was first released in 1974. Hardly. Although a more streamlined record than their dazzlingly effervescent early tape collages, Faust IV was still wayward enough to get the band dropped from Virgin ... proves how multi-dimensional the Wümme troupe could be... The Sad Skinhead, a track that pre-empts even Wire's Pink Flag by three years.
Nadine McBay, "Faust IV Reissue", Metro Magazine 2006
---
Virgin: Press Release
Thanks to Phil Burford for unearthing this release.
Virgin Press Release
In early 1971, when other companies were releasing (with considerable success) records by German rock bands such as Amon Duul, Polydor International were neglecting the field in favour of middle-of-the-autobahn music in the James Last vein. Finally, recognising this lamentable (and unexploited) situation, an executive of the aforementioned company asked Uwe Nettlebeck, a respected writer and film maker, to put together a band to play 'significant' music. The musicians Nettlebeck contacted now constitute Faust, and they are:
This method of forming a group will doubtless remind those of us who are less well versed in the Teutonic approach to rock of the Don Kirshner, Jonathan King type bubble gum factories. Germans, however, do not require group members to live together in a country retreat for half their lives before daring to look at a recording studio. The music is comparatively rootless, the product of a modern industrial urban society, and when a group is put together in Germany, by a person of Nettlebeck's integrity, with musicians of Faust's calibre, specifically to explore new areas of the medium, the attitudes of those involved ensure a valid approach and end-result.
In February 1971 Polydor gave the band some old recording equipment and they cloistered themselves in a converted schoolhouse in Wümme, near Hamburg, to record and record and record. The same year saw the release of the first Faust album, followed in 1972 by So Far, both of which received much critical acclaim and sold well.
With 1973 came the arrival of what the band call their 'sound generators'. These are black perspex boxes covered with dozens of white buttons: no one but faust seem to know exactly how they work - they were custom-made, took tow years to build and are unique. The sound generators are in part responsible for the highly individual sound of Faust - after all they are the only group in the world which have them. With these generators and other new equipment, Faust could now produce on stage effects that previously could only be achieved by lengthy adjustments to the PA inputs.
The group toured France earlier this year, and followed it with a tour of England: they have received incredibly enthusiastic receptions in both countries. The tour of England coincided with the release of their first record on the Virgin label, Faust Tapes, which sold at 48p and leapt into the charts. It remained in the top 20 for eight weeks before being deleted.
The album received only the highest praise from rock critics in all areas.
Martin Walker of The Guardian, in an article on European rock bands, says: "Faust have been simmering just below the surface of brilliance for two albums now... I suggest they have now clambered their way above it."
Marion Fudger of Spare Rib says: "The success of their experiments is due to their individual talent and their flexible but organised structure."
Faust stayed at the Manor studios to record their next album, Faust Four, whose release date, 21st Spetember, is also the first date of their new British tour. They have spent the summer in Germany preparing new material inspired by the homelands.
Virgin, "Press Release", Virgin 1974
---
Julian Cope: Faust IV and the End of the Line
Some of the points raised by Cope are addressed in an interview with Jochen Irmler. Renate Layne had things to say about the idea of 'Krautrock'
... After that, Faust were inevitably in a corner. They had become a part of mid-teenage British culture and The Faust Tapes was subjected to Monty Python-like rituals in the schoolyard, to see how much of it we knew and sort out the real Heads. When Faust IV came out it was an enormous letdown. I can't think of anyone who bought it. The packaging was weak. The songs had real riffs, and there was a reggae song on it! That song, The Sad Skinhead is now one of their best, but I couldn't see it at the time. And neither could anyone else. Faust IV, certainly as great as all but The Faust Tapes, was given the thumbs down. In truth, Krautrock, the classic 12-minute epic that opened the album, is really just a continuation of their whole trip They followed it with amazing songs; Jennifer and Giggy Smile are Krautrock classics. But I suppose Faust IV didn't have the innate sense of Moment that all their previous events/releases had. With hindsight, the sleeve was vastly inferior to all the others and maybe they should have stayed in Wümme instead of recording it in the Manor, in Oxfordshire. But hindsight does no one any good, and when Faust 5 was rejected by Virgin, Uwe Nettlebeck lost interest and Faust disappeared just as mysteriously as they had first arrived.
But the story did not end there. Faust were guaranteed immediate legend status for what they had achieved and, like Neu! and Can, were highly inspirational to the soon-coming British punk-scene. New albums of old songs have surfaced from time to time, Münich & Elsewhere, The Last LP, and 71 minutes of Faust all contain unreleased songs in various configurations. But, greater than all their records, Faust tell of an heroic time when reaching for the stars did not have to include getting the stars in order to be successful.
Julian Cope, "Krautrocksampler", Head Heritage 1995, ISBN 0-9526719-1-3, © Julian Cope
read the text of the full article here
---
David Illic: Faust IV CD Sleevenotes
Until the progressive boom of the late 1960's came and shook the status quo, rock music from mainland Europe was of little consequence. Caught in an anglo-american stranglehold. The majority of Euro rockers offered up nothing more than pale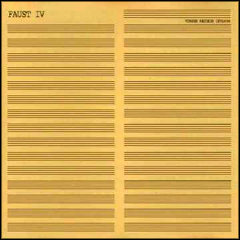 imitations of the styles developed by musicians from both sides of the atlantic. Complete with English lyrics. And it wasn't just what they had picked up from records - in Germany the situation was compounded by the many British bands (The Beatles, most famously) who used the bars and clubs in major ports of call such as Hamburg to break themselves in before returning home to storm the commercial barriers.
Formed in 1971, Faust were not the first German band to assert their own voice on the international stage, but they were by far the most radical. Holed up in the studios with an enlightened and encouraging producer, Uwe Nettlebeck, and a cache of new tech, they produced electro-acoustic experiments that were savage and uncompromising, and with precious few reference points to rock music from either side of the atlantic. The Velvet Underground may have provided some initial inspiration, but they junked their appreciation od noise-as-aesthetic after John Cale left them in 1968. Faust's third album, The Faust Tapes (their first for Virgin), compiled from the band's library of private tapes may also have alluded to Zappa with its brusque collage effects, but the link is tenuous at best.
The pieces on Faust IV, like the bands first two albums for Polydor (Faust and So Far) are allowed the time and space to develop fully as streams-of-consciousness. It would be pushing things to call them 'Songforms' although Faust were happy to utilise popular forms: the pre-dub experiments on So Far give way here to a more conventional, jocular stab at reggae with The Sad Skinhead, whilst It's a Bit of a Pain is a lyrical acoustic number rudely thrown off balance by retching electronic sounds. Contrast these with the opener, Krautrock, with its trance rhythms and searing electronic noise nodding in the direction of the post-John Cage generation of 'systems' composers (especially Philip Glass).
Calculatingly, Faust's influence on contemporary music is far easier. British avant-rockers Henry Cow and the later This Heat, who similarly tested the definition of rock music to near breaking point, owe them a sizeable debt, whilst the generation of industrialists which followed - everyone from Throbbing Gristle to Controlled Bleeding - would have been much the poorer without Faust's trailblazing inventions.
Faust IV was not as ruthlessly avant-garde as its predecessors, although as a more conventionally polished product it's probably the best place for the uninitiated to start. It wasn't the last recording they made, although it was the last to be released during the band's lifetime.
By 1975 it was all over - or so we thought. During the late 1980's the avant-garde indie label ReR MegaCorp scooped up previously unissued materrial for inclusion in two posthumous releases (Munic and Elsewhere and The Last LP), and earlier this year there emerged the long-awaited evidence of Faust's much rumoured reformation (a brief live recording featured as part of a giveaway single with vol 2/3 of the American music quarterly, Chemical Imbalance).
The last of their albums to make it on to CD, Faust IV is simply one chapter in the life of an extraordinary group. Pop it into your CD player, crank the volume up to maximum and let this classic music roar into your head.
David Ilic, September 1992
David Illic, "Faust IV CD Sleevenotes", 1992
---
Audion: Faust: Breaking all the Rules
Audion is a well regarded magazine covering many topics of interest to fans of 70's German avant-rock. You can contact Audion at Audion, c/o Ultima Thule, 1 Conduit St, Leicester LE2 0JN, UK
To record their fourth album, Faust were invited to The Manor Studios in Oxfordshire. The resultant album Faust IV was very different to its predecessor proper So Far, obviously due to the change of surroundings! Even more deeply rooted in parody, the opener Krautrock is 12 minutes of fuzzed out of proportion rock, relentless, evolving and growing. The Sad Skinhead is a whacky lop-sided reggae song that initially sounds out of place, but as the album develops one sees it as a logical part of the Faust jigsaw - radical but just in the right place.
Audion, "Faust: Breaking all the Rules", Audion 1989
read the text of the full article here
---
Dave Morrison: Faust
A lukewarm reception met the less abrasive Faust IV (1974) quite amazingly so, as the grasp of mood and atmosphere throughout has yet to be bettered. These trends continued through an aborted follow-up which, together with the erratically brilliant Faust Party Tapes, make up the Seventy One Minutes Of... compilation. These albums have been reissued on the heels of Can's recent gig, though the Polydor CD's are available on import only.
Faust demand your attention as their influence over the last 20 years has been immense - it still is - and there are threads yet to be taken up. These recordings are no museum-piece nostalgia but a library of possibilities. So why deny yourself access?
Dave Morrison, "Faust", Select 1993
read the text of the full article here
---
Fitter Stoke: Faust IV Review
Faust IV is the album where Faust consolidate all of the myriad soundworlds of their previous three records into one. The abstraction of Faust, the rhythmic cohesion of So Far and the cut-and-paste heroics of The Faust Tapes are here combined into a diverse collection of pieces and songs that encapsulate all that is special and unique about this most distinctive and innovative band. Easy listening it isn't, yet there is a strange and compelling accessibility and inevitability about this album that will attract the attention of even the most conservative listener, at least in part. Like it's budget-priced predecessor, Faust IV was and is a key record in my realisation and appreciation of pop music beyond its commercialised forebears. But it's taken its time, a long, long time, to hit me.
I wonder how many early owners of Faust IV did as I did and The Sad Skinhead aside, ignored the well-weird (or so it seemed at the time) first side in favour of the comparatively conventional second side. I've now come to love side one to distraction, but still prefer to listen to the album in reverse order. Side two begins with Faust as hard rock behemoths: Just A Second being a short, heavy-as-sin instrumental that sounds like Sabbath, Ash Ra Tempel and The Grateful Dead all melted into one and with treble set to eleven. But any hopes of winning over prospective buyers from the Ozzy fanbase are soon allayed by the free-form Picnic On A Frozen River, Deuxieme Tableau that follows: a short but attention-grabbing piece that helps prevent any impression of a straight-ahead rock band. Giggy Smile is a nearest Faust get to just that: a two-stage rock epic with manic rising and falling vocal scales over Bolanesque tinny axework in the first part, and the best Yazoo keyboard lick that Vince Clarke never wrote in the second. Lauft...Heist das es lauft Oder es Kommt Bald...Lauft is, in total contrast, basically a delightful vignette in the same mode as that consolidatory French-language acoustic piece that ends The Faust Tapes, only this time jauntier, more rhythmic and utterly irresistable, falling into a still, droning synth and harmonium phase that sounds like a cosmic collaboration between Klaus Schulze and Ivor Cutler. The side's final track, It's A Bit Of A Pain, is an endearing ditty (in the manner of 'Unhalfbricking'-era Fairports) whose release as a 45 seems a sound enough choice until the most jarring and dischordant sustained note, mixed at a higher volume than the rest of the song, wails over the "...but it's alright babe" chorus. The effect is unwelcome, disturbing, and in the last resort incredible. Play this as the background for seduction and see how far you get. A song for loners!
Which brings us (in my own perverse order) to side one, track one, and the twelve demanding minutes of Krautrock, the album's apex. It's taken me best part of three decades to get it, but now that I have, it's the first Faust track I'd play to anyone. It's a racket almost beyond words, but totally compelling. I'm convinced that Lou Reed must have heard this before he set to work on 'Metal Machine Music'. The same high frequency guitar tone, in-your-face feedback, and rhythms that are so mixed down in the mellee that they have to be imagined (at least until the drums come in two-thirds through - and what a moment THAT is) permeate the piece. Play this at full volume through headphones and you simply become at one with it. You'll have one hell of a headache but one hell of a high. Sheer, unadulterated power with no tune and no compromise - perfect.
The song that follows is simply not on the same planet, and I don't know of any successive tracks on any album that differ as much as Krautrock and this one. Nearer to 'The Pushbike Song' than cosmic music, The Sad Skinhead is the single that never was. It would have been a wow at school discos in 1973, especially the raucous fight scenes that accompany the vibe-driven middle section. It's as crass as The Pipkins and as catchy as mumps and I love it.
Jennifer is dirge-like, hypnotic and spacey with Donovan-like vocals over an incongruous and repetative bass rhythm that sounds like the lick at the beginning of Floyd's 'One Of These Days'. It's a beautiful song that builds slowly until the sheer glass guitar noise that began Krautrock twenty minutes earlier takes over, only to end with an amusingly out-of-place stride piano. Diverse, distracting and delectable.
With this album, Faust took their leave of us for two decades, although Virgin reportedly rejected a fifth album by the band. I think I can see why. Faust IV is, in all aspects, everything that Faust can offer in 45 minutes. I have heard some of the reformed band's projects but nothing comes close to the variety, originality and excitement of the first four albums and Faust IV in particular. It's still available as a cheap Virgin reissue and is worth £6 of any head's money. If you don't believe me, read Keith's Aching Bowels' review of last year and Julian's Krautrocksampler. Then just buy it, cherish it, and play it every week.
Fitter Stoke, "Faust IV Review", Head Heritage 2002, © Head Heritage
ref: Head Heritage
---
Dominique Leone: Faust IV Review
Faust's final proper release of the 70s finds the band streamlining their sound a bit, though retaining thier maverick spirit. Today, Faust IV is a favorite of many Faust fans, but at the time it was seen as major step downwards from the frenetic whimsy of the band's early releases. The album largely eschews the cut-and-paste aesthetic of Tapes for a kind of off-center pop sensibility. This isn't exactly radio fare, but is doubtlessly less likely to drive your straight roommate insane than the earlier stuff.
Krautrock is a churning, tumbling trance rock honoring the term that was henceforth applied (with gross generalization) to a wave of experimental German bands from the early and mid-70s. This one clocks in at around 12 minutes, and mines similar territory as countrymen Can, with washes of electronic sound thrown into a rhythmic blender, set to a repetitive spin cycle. However, this isn't quite the ambient funk of the other band, but rather a boisterous, almost punkish rock mantra. Julian Cope calls it 'fuzzy', and that about sums it up.
Picnic on a Frozen River, Deuxieme Tableaux is actually Giggy Smile, mistitled on the CD jacket. Faux-blues shuffle that is very reminiscent of early Zappa - almost sincerely jamming down to some pretty ridiculous lyrics. Is it a parody? Can they really play? Do they really want to be Germany's ZZ Top? Anyways, midway through, the whole thing turns into a bouncy, synth-led pop vamp for no other reason than to show you they're still Faust.
The group abandoned their fabled schoolhouse in Wümme for the major league treatment at Virgin's Manor Studios. Ironically, the quality of the recording is affected very little. It could be that the reaction to this record at the time of its release was due as much to a perceived loss of credibility than to any compromise of the band's sound.
Dominique Leone, "Faust IV Review", Ground and Sky 2003
ref: Ground and Sky
---
Jennifer Hor: Faust IV Reissue
Thanks to Jim Donnelly for scanning this review
Black sheep in an otherwise distinguished lineage this album may be (yeah - but only if you don't bother to listen to it - ed), and many tracks admittedly aren't good, but this last original Faust 70s recording has survived the ravages of time pretty well compared to some of its 1973 contemporaries - I mean, apart from tragic UK music monthlies like Q and Mojo, who remembers that Tubular Bells recording (Well I do I suppose, since I mentioned it.) And after three albums which many consider landmarks in the history of experimental rock / pop, Faust were entitled to, er, relax and have a bit of fun with the fourth - advice they apparently took too much to heart, since it was probably during the Faust lV recording sessions that they spent a night in the slammer for running up a debt. Some of that carefree spirit breezes through this album which is lacking in more recent releases and reissues, some of which also carry the stench of someone trying to cash in on the Faust reputation.
Without a doubt, the highlight is Krautrock, certainly the first and last and only word in combining shimmering guitar noise textures and a hypnotic rhythm and the track that, in the manner of Helen of Troy, launched a thousand careers in avant-garde music. Of the other pieces, the standard falls away - Jennifer has a hint of glorious showering guitar debauchery which ends all too quickly (I have heard Mike Morley's (Gate) version of this song by the way and apart from the honky-tonk piano coda I remember it as a mostly heavy-handed demolition job); Picnic on a Frozen River, Deuxieme Tableux, a reworking of a piece from Faust So Far, is a three-parter where the first movement is not bad, the second jazzy movement is good but the third movement (the reworked piece) disappoints due to a mundane guitar improvisation after we've just heard Krautrock and Jennifer; and Just a Second (Starts like That) is a stream-of-consciousness track that becomes quite unhinged with near-deranged piano and searing guitar blasts in the background amid other unsettling effects.
Missing from the CD is a lyric sheet and English language translations of the French lyrics on a couple of tracks which would have helped to gauge how much of Faust's preoccupation with the alienation of modern industrial life actually made it onto the record under Richard Branson's regime. (Virgin Records is well-named, that's for sure!)
The album points in a more commercially acceptable if slightly dissident direction (a path well-trodden by others) for Faust had they continued past 1975 and in that sense could be considered historically important despite its patchy quality. Those of you who already have The Wumme Years set and want TWO CDs with Krautrock (the track features on one disc in the set) are certainly welcome to Faust lV as are first-time visitors - a thousand more (hopefully good) careers in avant-garde music are certainly needed.
Jennifer Hor, "Faust IV Reissue", Sound Projector 2005
---
Gerald Hammill: Faust IV Review
Thanks to Robert Jaz for finding this review.
I'm sure many of you reading this already own a copy of Faust's legendary fourth album; suffice to say this newly re-mastered reissue sounds far superior, reason alone for picking it up, not to mention the bonus disc. Originally released in 1974, Faust IV would be the German avant-rockers' last proper album for almost two decades. Though only releasing a handful of records over the course of four years, they would leave an indelible impression on music. Faust's adventurous studio explorations - from music improvisations to their experiments with tape collage and electronics - would go on to influence generations of musicians to come (e.g. the Fall, 23 Skidoo, Nurse With Wound, Stereolab, Olivia Tremor Control, Liars, etc.).
Compared to their earlier works, Faust IV is somewhat tempered, especially considering the cut-n-paste mayhem of its predecessor, Faust Tapes , but it's far from a straight-ahead record. The 12-minute instrumental opening track Krautrock is as sprawling as the title implies (surely the group was taking a playful piss on contemporaries like Can and Neu!), while Just a Second unexpectedly turns a bluesy, stoner rock jam into a strange, musique concr̬te-influenced workout - think Black Sabbath meets Ash Ra Tempel meets Luc Ferrari. In contrast, the The Sad Skinhead is given a Teutonic reggae workout, seemingly plotting a course which post-punk bands like Scritti Politi would follow a half-a-decade later, and I wouldn't be surprised to find the Beta Band citing the whimsical It's a Bit of a Pain as an inspiration for any number of songs from their Three EPs era. And I haven't even touched upon Giggy Smile yet, but let's just say that its rollicking Zappa/Beefheart-esque and proggy Canterbury-styled jamming effortlessly twists through jazzy interludes, and is a Faust masterpiece.
Those of you who bought the Wumme Years box set a LURCHER back will find the overlapping Peel Session tracks Lurcher, Krautrock, and Do So a bit of a redux, but there are also several great alternate mixes including an extended version of Just a Second as well as the ambient Piano Piece, which never made the initial cut. Needless to say, Faust IV is an absolute touchstone in '70s German experimental rock (ahem - Krautrock), and still, in the year 2006, sounds ahead of its time.
Gerald Hammill, "Faust IV Review", Other Music 2006, © Other Music
ref: Other Music